June – July 2011 IRT Newsletter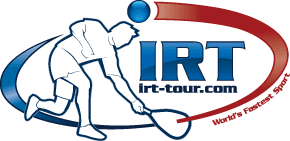 | | | |
| --- | --- | --- |
| | | |

The WOR Racquetball Warehouse Championships presented by Ektelon in Huntington Beach, California last weekend marked the first event since World Outdoor Racquetball (WOR) and the International Racquetball Tour (IRT) announced a strategic partnership aimed at growing outdoor racquetball.
This eighteen (18) month agreement is the first time that the indoor professionals and outdoor players have formalized a relationship to create a true outdoor season. The growth in popularity of outdoor over the last five years and new leadership at the IRT made this a necessary and easy partnership that will grow the sport while increasing the income potential of the pros during the summer.
The new relationship will have implications beyond opportunities to compete in summer, according to IRT President, Jason Mannino. "Although there has always been camaraderie and support between IRT and WOR, we are very happy to announce a formal partnership. The IRT players are excited about the opportunities presented by outdoor racquetball, and look forward to continue to be a part of its growth. You can expect several additions such as a joint ranking system, defined outdoor season, prize money increases, more events, and true collaboration between IRT and WOR to create and promote events as well as the sport."
Most importantly, the agreement will solidify a defined outdoor season for the professional players. "WOR is excited to have a formal partnership with IRT and it's players," commented Hank Marcus, WOR Executive Director.  "Having the best players in the world competing with and against the top outdoor players is a spectator's dream. The most important part of this agreement is our partnership in scheduling to define a true outdoor season for the pros."
WOR and IRT will be launching a joint ranking system for professional outdoor players in addition to cross promotion on websites, Facebook, and all media outlets. Look for many of the top IRT professionals on the outdoor circuit this summer.
The IRT is the governing body of Men's Professional Racquetball. For additional information contact Jen Sinclair Johnson, IRT Director of Communications, [email protected]; 39252 Winchester Road, #107-413, Murrieta, CA 92563
WOR is the governing body of Outdoor Racquetball. For additional information contact Hank Marcus, WOR Executive Director, (503) 320-4443; [email protected]

The IRT has partnered with the Military Racquetball Federation (MRF), a 501 (c) (3) non-profit organization, to enhance its ongoing programs while raising the level of public awareness for the group's efforts.The MRF promotes and supports racquetball events for service members in the United States and abroad, including in war zones, while also assisting wounded warriors with rehabilitation. 
Steven Harper, LCDR USN (Ret.) and MRF Executive Director commented on the impact of the agreement. "The union between the IRT and MRF is enormous! This will give us the ability to promote healing and fitness for service members who were severely injured in combat while also increasing their exposure to racquetball professionals. Additionally, having the IRT as a partner will give us even more credibility when briefing the higher echelon of the military on our contribution to helping those in their rehabilitation needs. We definitely welcome this partnership with the IRT as we move forward in our endeavors."
The two organizations have a history of cooperation, noted by MRF Co-Founder, Hank Marcus. "The IRT and its players have supported MRF, beginning with the exhibitions on the USS BONHOMME RICHARD based in San Diego. This agreement creates a true partnership that will benefit our troops here in the United States, overseas, and our Wounded Warriors involved in the MRF Racquetball Rehabilitation Clinics program. IRT brings a unique exposure to the MRF cause."
The professional athletes who compete on the IRT will have specific opportunities to work with service members, according to IRT President, Jason Mannino. "It is a personal, and professional honor for me to support the United States Military. The IRT players are excited for the opportunity to help the MRF grow awareness of our sport. From what I understand, there are over five hundred racquetball courts on military bases throughout the world, and, in the near future, I would like to see IRT players speaking to our troops about the mental and physical benefits of racquetball."
Look for many of the top racquetball professionals to make appearances at MRF events, display the MRF logo, and participate in a series of fundraisers and cross promotions, organizational websites, Facebook, and other media outlets. 
MRF is a 501(c) (3) tax-deductible corporation run and staffed exclusively by volunteers. For additional information contact Steven Harper, MRF Co-Founder, [email protected]. MRF is dedicated to promoting racquetball programs and events for United States service members home and abroad, including support of events for our troops in war zones. Additionally, the MRF is committed to assisting Wounded Warriors with their rehabilitation through the Racquetball Rehabilitation Clinics (RRC). This program's focus is the use of racquetball as rehabilitation for both the physical and mental challenges suffered from combat.

Many of the new racquets for 2011-12 are making their way into courts near you and this is one of the best years in a while to consider upgrading from that outdated racquet. The big question is which racquet in your favorite brand's line should you choose? In many sports, fans will look to the pros to determine which equipment is the best, and this is more applicable in racquetball than most sports.
Racquetball is one of the few sports where the pro players use the same equipment as the amateurs, and I'm not talking about using a racquet painted the same, but the exact same racquet. In tennis for example, the ever-popular parallel to racquetball, the pros have their racquets fully customized from handle to head to their exact weight, balance, and tension preference and often the pros are not even using the racquet you think they are (Andre Agassi used to used a Prince painted to look like a Head).
While there are many factors that affect these picky tennis pros like court surface, spin, weather, and stroke style, racquetballers don't have to worry about the same conditions, which allows you to be thankful for the down to earth pro players and gives you the comfort in knowing you are getting the same racquet your favorite player is using (which you can check up on in our IRT Pro Player Gallery).There are still some things you can do though to fine-tune your racquet to your exact preference. Let's dive in a little deeper…
Racquet Weight & Balance
The combination of strung weight and balance will determine the Swing Weight of the racquet, a great indicator of how it will feel and play. 
• Higher strung weight + More head weight (head heavy) = higher Swing Weight
• Lower strung weight + less head weight (head light) = lower Swing Weight


In general, a higher swing weight generates more power, while a lower swing weight will be more maneuverable. These values are most commonly customized using lead weight tape, which can placed in various locations in various amounts to fine tune your racquet to an exact swing weight. This is especially important for those who carry back up racquets and need to switch mid match for a seamless switch without the need to adjust your timing or swing.
Ektelon has also added customizing options to many of their O3 and EXO3 racquets, allowing you to adjust the weight and balance of your racquet to your playing style. Check them out on our website to see what the different options are.
String & Tension
Your strings will always wear out before your racquet, so it is important to change them out regularly. Different string gauges can affect your overall weight, but have a much larger effect on your power and control. Here are the basic rules:
• Higher gauge string (thinner) = More pop / More response / More power
• Lower gauge string (thicker) = More durable
• Higher tension = More control
• Lower tension = More power
The type of string will also greatly affect the feel of your racquet but with all of the options from manufacturers, it can get a little complicated. To read about the different types of string, please visit our Learning Center.
At Racquetball Warehouse we always strive to increase equipment education for all players. By offering the lowest prices available and the most comprehensive information database, we make sure every customer gets the best bang for their buck and the best understanding of their equipment. And for those who could care less and just want to play, well that is just fine with us too.

Athletes sometimes do not know or understand that "TAKING TIME OFF and RECOVERING" is equally as  
   important as the training itself. Think about why people take vacation –  they want and need to get away from work, school, or their crazy-busy lives to just "chill out and relax" and not think. At times, everyone needs to just not be responsible for anything and not have an agenda. Athletes need that too…a "VACATION from Training," physically, mentally, and emotionally. It's called healing the body and mind…a must in order to compete at ANY level.
Too often athletes do not take the necessary time off to rejuvenate their bodies, minds, and spirits so they get burned out. Since the summer is upon us and the racquetball season is slowing down with less tournaments and leagues and more vacation and family time, let's take a look a what my "Championship Team" is going to do so you can follow along. Postseason begins right after your playing season ends in June, and you should take three weeks off for a full mind and body recovery. Your body thrives on stress with recovery cycles. You work hard during the season then rest, relax, eat and sleep well, hydrate lots and enjoy your time off. Then, gradually start back with aerobic conditioning and overall fitness.
Racquetball Skills
DO NOT play racquetball. Play other sports that you enjoy…tennis, running, boating, cycling, rock climbing, surfing, or whatever. 
Slowly add in drilling so you get your timing, accuracy, and consistency back.
Conditioning Skills
Slowly add conditioning and strength training as well as cross training (specific types of training are in my book).
Mental Toughness
If you over train with no recovery time you can BURNOUT. Burnout is when you are doing too much, too often and under too much stress. Some early warning signs are if your temper is close to the surface, you are extremely moody and emotional, you seem lethargic and depressed. Take a break from racquetball and do something different or nothing at all. All work and no play brings on burnout. As human beings we thrive on stress and recovery cycles. But the recovery has to be healthy like improving your diet, hydrating with water, a massage, a movie, good friends, music or reading…not alcohol, fast foods and no sleep. Burn-out is the end result of the accumulation of a long season. (Specific mental toughness tools, including when and how to practice, are in my book) As it gets closer to the season your training changes
Rocky's, Paola's, Taylor's and Sharon's "Championship Racquetball Game" stems from their belief in the Sports Triangle where ALL 3 sides of the triangle must be present and working together to reach their potential NO MATTER what. But without a shadow of a doubt they KNOW how important "Taking Time Off and Recovery" is to their success. They are all now taking time off since their last tournaments and just ENJOYING their time. Rocky will soon start training for the Outdoor Nationals in Huntington Beach, CA, Paola will soon start training for her Mexican National Championships, and Taylor will be getting ready to go to Japan at the end of this month. They are living proof it works and their titles substantiate it.
Next time I will continue to build your Championship Racquetball Dream House one level at a time so be ready to become the champion you always dreamed of, but now you will have the tools to do it and make it a reality.
For details on more personalized instruction, a weekend camp, instructional DVD's, our book, "Championship Racquetball," and more please visit my website, www.frandavisracquetball.com.
You've heard about "control players" and "power players," but what exactly does that mean?  To find out, we asked one of the top players, Rocky Carson.  "A control player is more of a physical and dominating player."  But how does he manage to control prime real estate and therefore a match?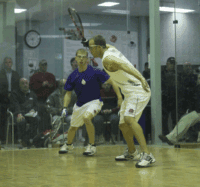 1. Quick feet: getting to the ball faster means you can hit your shots with more power, better accuracy, and deception.  
2. Shot selection: Slow the game with lob serves and ceiling balls or hit power shots down the line, cross court, and pinches.  In order to do that you have to…  
3. Master the shots: You have to execute the little things to accomplish the big things.  Be able to make all the shots (kills, pinches, down the lines, passes, etc.) or your opponent knows he doesn't have to worry about covering the ones you can't hit, taking pressure off of him.  At any level of the game, if he knows what you can't consistently hit, then he only has to worry about what you can.
4. Game Plan: Know your opponent's game – weaknesses and strengths to play to  the flaws and against the strong points.  But, the best game plan in the world won't work if you can't execute your shots.
5. Repetition:  If you can't make the shots in practice, you won't make them during a match.  Start with dropping and hitting, then move to shots off the front and back walls before setting yourself up to move and hit.  Repeat the drills from the right, center, and left sides of the court from behind the safety zone to the back wall –  nine different spots.
With a solid idea of what you want to hit and the ability to execute, you can take control of center court and the match – because if you're parked on prime real estate, you have more of an opportunity to hit your shots while putting opponents on the defensive.

The IRT recently launched a brand new scholarship program for college students looking to compete on the International Racquetball Tour. This scholarship is named the "Red Swain IRT Scholarship", after Cliff Swain's father who passed away back on Thanksgiving Day, 2000. 
When you ask Cliff about his father, he'll tell you he credits his success due to the way he was raised.  Cliff went on to say: "He was an amazing father. As far back as I can remember he made me feel like a man, not a little boy. Every time I stepped on the court I wanted to impress him & make him proud of me.  He was so good to me that I always wanted to make his day better by winning tough matches.  A great parent can make all the difference in the world."
During the Ektelon Nationals this past May, the IRT announced 8 Red Swain IRT scholarship recipients to deserving young athletes. These players will receive the following benefits from the IRT:
• Complimentary entry fees and IRT player dues for up to 12 IRT Tier One or Tier One Plus events (excluding Grand Slam Events)
• If athlete earns prize money, dues and entry fees will be deducted for that event
• Complimentary IRT player dues for all IRT satellite events
• Housing at Tier 1 Events (where available)
• Featured article on IRT website
• Clothing providing by IRT's official clothing partner, Oneshot
• Collegiate Player Gallery created by Racquetball Warehouse featured on IRT website throughout the season
• Collegiate Cup Leaderboard with rankings for all collegiate players playing IRT events
The 2011-2012 Red Swain IRT Scholarship recipients are:
• Alex Ackermann
• Brad Schopieray
• Daniel De La Rosa
• David Horn
• Felipe Camacho
• Jose Diaz
• Taylor Knoth
• Tony Carson
Follow these great young athletes' progress throughout the IRT season on www.irt-tour.com and IRT's Facebook page!

E-Force Signs Polo Gutierrez
IRT Pro and Mexican National Team player, Polo Gutierrez Sotres of Juarez, Mexico has plenty to celebrate – a multi-year deal with E-Force Racquetball and a gold medal finish at the Pan American Games in Managua, Nicaragua last month.  Polo competes at select tournaments, reaching as high as the semifinals since he first hit the pro tour at the 2001 U.S. Open. The former E-Force player has returned to the team, joining his Pan American doubles partner, Javier Moreno of Chihuahua Mexico and #5-ranked pro Chris Crowther. 
Now that he's finishing school, expect to see the Mexico Nationals Doubles Champion (2010), Central American Doubles Champion (2010), and Mexican Nationals Singles Champion (2009) to be playing more tournaments representing E-Force in Mexico and internationally.
The company is "thrilled to have Polo and Javi represent our company," according to a recent press release.